Always lock your motorcycle – in your driveway, garage, at your office, on a trailer, at a store, etc. Don't rely on your insurance alone! Be proactive and protect your investment so you can avoid the frustration and cost of theft.
For maximum security protection, Kryptonite recommends using two locks such as a Kryptonite Security Chain and a U-Lock or Disc Lock. The Kryptonite chain is placed around a fixed, immovable object and through the frame of the motorcycle to prevent against lift-away theft. Remember that you must secure the chain to a non-removable part of the motorcycle frame. Use the Kryptonite disc lock or u-lock on the rotor of the motorcycle to prevent against roll-away theft. Two security devices equal more protection and more time for a thief to have to work!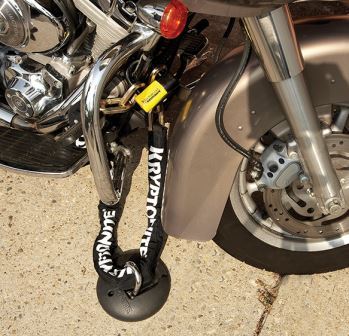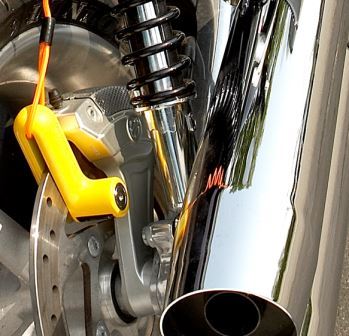 Helpful lock-up tips:
Lock your motorcycle in an area where there are other motorcycles.
Do not lock your motorcycle in the same location all the time.
Beware of locking your motorcycle to items that can be easily cut such as a wooden post or chain link fence.
If using a Kryptonite disc lock on your front or rear rotor, use a Kryptonite reminder cable to prevent riding away with the lock still engaged.
If using a disc lock and your motorcycle does not have an exposed rotor, use a shackle disc lock to capture the rear wheel's chain sprocket.
Always secure accessories and components that can be easily removed (i.e. helmets, jackets, etc).
Motorcycle Lock-up Options – Kryptonite's Product Offering for Sports Bikes, Cruisers, Touring & Sport Touring Bikes, On-Off Road Bikes, Choppers, and Motocross Bikes