Anti-Theft Protection Offer
What is the Anti-Theft Protection Offer (known as ATPO)?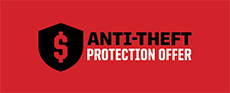 Created in 1978 by Kryptonite, our Anti-Theft Protection Offer is an optional offer that a customer must register for to be able to enjoy the Program's benefits. ATPO coverage is NOT bicycle insurance and there is no affiliation with an insurance company. The offer is administered by Kryptonite.
How does ATPO work?
If your bicycle or powersport vehicle is stolen because of the malicious or unintended opening or breaking of the Kryptonite lock by force, we will pay you the lesser of one of the following, subject to a maximum amount based on the type of lock product identified in the claim: [1] the base cost of your bicycle or powersport vehicle excluding tax and accessories; OR [2] any insurance deductible (Note: Kryptonite requires proof of payment from your insurance company prior to paying your deductible under this Offer). To locate the ATPO coverage amount, look for the sticker on the front of your Kryptonite lock package or check the product page on our website (kryptonitelock.com).
Remember this is an OPTIONAL offer and you MUST register to participate in the Program.
How do I know if I am eligible to register for ATPO?
The ATPO is available to customers who purchase certain u-locks and chains (ATPO noted on package and on website) in the following countries:
| | | |
| --- | --- | --- |
| Austria | Belgium | Bulgaria |
| Canada | Croatia | Denmark |
| Finland | France | Germany |
| Greece | Hungary | Iceland |
| Ireland | Israel | Italy |
| Latvia | Lithuania | Luxembourg |
| Netherlands | Norway | Poland |
| Portugal | Romania | Slovenia |
| Spain | Sweden | Switzerland |
| United Kingdom | United States | |

To be eligible a customer must register online at the Kryptonite website (kryptonitelock.com) within 30 days of lock purchase.
What do I need to register?
The following pieces of information are required for registration:
Contact details
Lock information including a copy of the itemized receipt of purchase
Key number of your lock
Vehicle information including vehicle type (bike/powersport), base cost, the serial #
An itemized copy of the bill of sale
An image of your bicycle or powersport vehicle.

If you do not have internet access, you may request a print registration by contacting us at 800-SAY-LOCK (US/Canada) or 001 781-828-66555 (UK/Europe).
Click on the button below to register.

Cost to Register
---
Requirements in the event of a theft:
Report the theft to the police within 72 hours.


Immediately report the theft to your insurance company, if covered by insurance.


Notify Kryptonite within seven (7) days of the theft – you can submit a request ticket through our website (http://www.kryptonitelock.com/en/customer-service/contactus.html) or give us a call at 800-SAY-LOCK (customers in USA/Canada) or +001 781-828-6655 (customers in UK/Europe).
Filing a Claim:
To file a claim visit click on the button below.
REMINDER – Cables and accessories are NOT covered under ATPO. If you purchased a u-lock/cable combination pack the u-lock is covered but the cable is only a secondary deterrent as stated on the package, and SHOULD NOT be used as your primary lock.
REMEMBER YOU MUST HAVE REGISTERED FOR ATPO TO FILE A CLAIM.
In order to file the claim you need the following pieces of information:
Contact details, including your email address
Registration confirmation number, (would be in your registration confirmation email)
Copy of the official police report
Description of the lock-up – provide info on how the lock failed (we always recommend locking to a secured stationary object)
Image of the broken lock*
Image of one original key
Proof of deductible from insurance company, if covered by insurance.
*Kryptonite reserves the right to request the actual lock